Kate Pleasant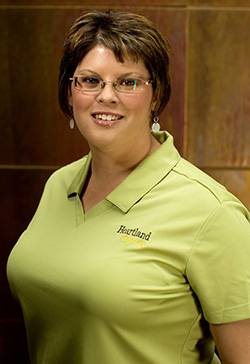 I was born and raised in Robinson, Ill., a town of around 7,000. Growing up, I always knew I wanted to be in the communications field. My mom has a book with pages for each year of school and in it, I wrote what I wanted to be each year; it seems that "writer" and later "journalist" began to turn up more and more often.
I attended college at Eastern Illinois University here in Charleston, Ill., and graduated with a Bachelor of Arts in journalism in the spring of 2006. As a student at Eastern, I had the privilege of working at WEIU-TV on the student-produced, award-winning newscast. For two years, I reported, produced, wrote, edited and did some videography and other production positions for the program. After graduating, I went on to work for a newspaper in the Charleston/Mattoon area. A little less than a year after I started that job, the opportunity to rejoin the WEIU team as the new Heartland Highways co-host came up and I jumped at the chance.
The funny part about all of this is when I worked at the newspaper, I wrote an article about Heartland Highways Season 5 and had interviewed Lori for it. Little did I know I'd be a part of the very show I had written about mere months before, but here I am!
As I have said all along, being from a small town has really made me a great fit for Heartland Highways. I enjoy meeting new people and going places I've never gone before. It hardly seems like work! Most of the time it feels more like a road trip. One of the craziest things about this job is being recognized by people when I'm out in public! It's great to meet people that watch our show and hear how much they enjoy the program.
I'm excited to be partnered with RFD-TV. The network has grown so much and it's amazing for me to think that people all over the nation can watch our show. We're continually hearing from people as far away as Arizona, Wyoming and even L.A. about stories they see on our show. I love talking to viewers from other states. They always have some wonderful stories to share as well.
As Lori mentioned, it's mainly her and I doing the production, the traveling, the shooting, the editing, etc. I find this creative process to be very satisfying. It really goes along with my extreme passion for writing and storytelling.
At home, I like to golf when the weather cooperates, spend time with my husband (some people may remember me as Kate Henderson) and son, Tyler (born in May 2011), travel and play with my Bichon dogs, Teddy and Tobey.
I hope you enjoy the show and maybe I'll see you out there on the Heartland Highways!